How much is one human life worth? #2
The UN sees equal value in every single life. In times of Covid-19 this premise is challenged.
Welcome to Future Potentialis #2
I'm Andreas Freund. I'm exploring pressing issues in tech, science, and society with sources and inspirations to let you dig deeper.
Not a subscriber yet?
---
Imagine a world without cars. Not one where they don't exist, but one where they are illegal. It would be a huge curtailment of our personal freedom and our ability to move around independently. This, in turn, would have dire economic consequences due to geographically limiting our interactions. So why would anyone outlaw cars? Well, it saves a lot of lives. Worldwide, there are over 3.500 traffic deaths a day. An additional thousand die prematurely from air pollution caused by vehicle exhaust emissions. If you factor in deaths from car production, fewer oil spills, higher obesity rates, and other variables as well, suddenly, it might be a sensible decision to ban cars in order to save as many lives as possible. But as we obviously have not done so, we seem to be ok with a certain kind of trade-off between gains in freedom and prosperity and casualties. The same is true concerning our measures against the Coronavirus.
The viral "The Hammer and the Dance" essay explained quite clearly why it is sensible to impose lockdowns to flatten the curve of infections and thus not overload our hospitals. If you haven't broken the movement restrictions and went to live under a rock recently, you probably have read some version of this line of thinking before. However, we have to be mindful if it is presented to us with Margaret Thatcher's killer argument "TINA - There is no alternative". Whether it is correct, depends highly on our values and even more on our priorities.
The maxim to reduce suffering and lives lost as much as possible is far from the standard modus operandi of our governments. Otherwise, our societies would have eliminated poverty, eradicated diseases like Malaria and have stopped climate change with a zero-emission economy. On the contrary, drastic austerity measures after the financial crisis, which have led to many preventable deaths because improvements in public health policy were stalled, were also argued with TINA.
Presently, most economic forecasts look grim and predict the next financial crisis, because of the plummeting of economic activities due to the lockdown measures to fight Covid-19. The IMF expects the global economy to contract by 3% in 2020. The investment bank Goldman Sachs expects a historically sharp and swift recession, with second-quarter GDP to drop by 24% and several economists see the US unemployment rate going towards 15%. While these estimates vary greatly, there is a well-established causality between GDP per capita and self-reported life satisfaction. To reverse the damage done, the European Central Bank started an $820 billion emergency bond-buying program. Nevertheless, one might question this contradiction of spending billions to try to stop the economy from crashing, while simultaneously crashing the economy on purpose by locking everything down.
It also begs the question, whether the rescue money could be spent in more efficient ways than buying company bonds, most obviously by improving the healthcare system. One cannot indefinitely increase hospital capacity no matter how much is spent due to limitations on time, personal and other critical resources. Yet, I miss forward-looking efforts by governments, as Bill Gates does with building factories for several of the most promising vaccine candidates. Wasting money by building some useless factories (as there likely will be only one working vaccine and all need different production machines) nevertheless will not only save many lives due to faster availability but also allow for a quicker economic recovery.
So instead of being outraged by reports of a doctor in Bergamo calling ventilators "gold", and Italy having to practice triage (older people with lower life expectancy don't receive the treatment they need in order to save younger ones), one should criticize the system that allowed that to happen. We can see from China's makeshift hospitals, 3D-printed ventilators or car manufacturers suddenly producing them, that it also seems to be a question of will and not just practicality. Yet, it is worth noting that in Italy only 12% of the death certificates claim direct causation by the Coronavirus (rather than being "one of the causes"). A report from the Italian National Institute of Health analyzed 355 fatalities and found that only three patients (0.8%) had no prior medical conditions (Table 1, p. 3). The average age of deceased and COVID-19 positive patients was 79.5 years. That makes their deaths no less tragic, but again it goes to show that it is a question of values. Of course, older people deserve additional years of life, which are gained by receiving adequate treatment, but at the same time, we ignore how much suffering is caused by widespread lockdowns. Cancer treatments are postponed, schools are closed so children are stuck at dysfunctional homes, domestic violence increases and suicide rates rise as people lose their jobs and businesses fold. Those are not immediate deaths but in aggregate an aspect that should not be neglected. So instead of focusing on mortality, one should aim for a more encompassing view on health outcomes by focusing on the total burden of disease - both from years of life lost due to premature death and years lived with a disability. This can be measured in 'Disability Adjusted Life Years', where one DALY equals one lost year of healthy life.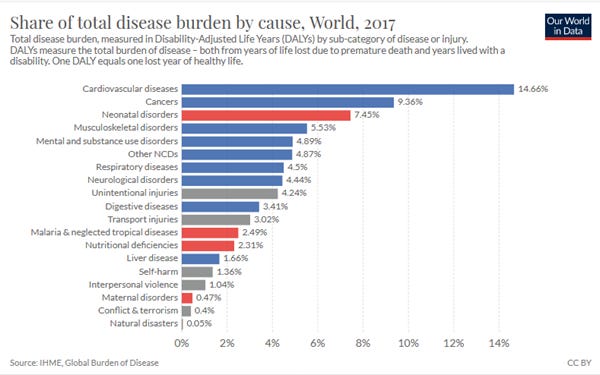 There are many candidates on that list that deserve to be fought with the same amount of determination and resources as are spent on Covid-19. That we do so with the Covid-19 epidemic, is partly because of its many unknowns and inherent uncertainty. There are many properties of the Coronavirus, which we are not yet completely sure of, including the possibility of reinfections, the number of currently infected asymptomatic and a lot more. Even the case fatality rates (number of reported deaths per number of reported cases) are subject to selection bias and thus highly variable, depending on who is tested for what reasons: Generally, those in hospital settings or those with more severe symptoms are much more likely to be tested than the asymptomatic. Initial CFRs estimates tend to start high and trend downwards: 10 weeks into the H1N1 influenza pandemic of 2009 estimations varied from 0.1% to 5.1%. It ended up with a fatality rate of 0.02%, according to the WHO. Mindful of those factors, the University of Oxford's Centre for Evidence-Based Medicine estimates the CFR for Covid-19 to be 0.72%. This is still significantly higher than the flu's typical 0,1%. Contrary to the often evoked comparison with the Spanish flu, which had an unusually high fatality rate of around 2 percent, a key difference is that children and young people have a near-zero chance to die from Covid-19. However, it is good to keep in mind that it is easy to select predictions that fit a specific narrative and that all strategies for fighting the virus rely on underlying assumptions and values.
The one initially chosen by the British government - namely to build herd immunity among its population and to refrain from harsh restrictions on personal freedom- are only worth undertaking if carried through: A reversal in strategy would only lead to the same disadvantages the countries which are locked down face, but worse. The U.K. had developed a cutting edge pandemic response plan, but its model was originally built around the flu, and thus failed to foresee ventilator shortages. The aforementioned essay argued that aiming for herd immunity was doomed to fail because rising death tolls would cause public outrage as soon almost everybody would have a loved one die or know someone who had. But the same goes for the victims of the likely coming recession: everybody will soon know some badly affected people, ranging from depression to suicide.
By choosing our strategy, we chose what to perceive and what to ignore. Most people intuitively agree with the UN Declaration of Human Rights, which sees equal value in every single life. Presently, most countries try to save the highest number of sick people now, while accepting a lot of suffering and deaths down the road that might be equally preventable. While the current path taken might be viable, we should be aware that there always is an alternative. So we should constantly evaluate whether we have chosen the one where we suffer the least.
As always thank you for reading and I welcome any comments below.
---
In this edition of Future Potentialis, I also want to share some interesting links I have encountered:
An exhaustive database of 1000+ containment measures and their date in different countries and regions.
Less Wrong's Coronavirus Info-Database attempts to organize the disparate scientific papers, articles, and links regarding the pandemic.
An Interesting profile of an investment banker in The New Yorker. He is up 2000 percent this year by predicting the Covid-19 crisis. His suggestion to fight the pandemic: "reward each citizen who strictly observed the quarantine with fifty thousand dollars. The virus would burn out after four weeks".
Cheers,
Andreas
---
Thanks to Manuel Schraeml, Lisa Nolte, Tuna Bozalan, Clemens Manzano, and Alexander Freund for their inputs and feedback.
Thanks for subscribing to Future Potentials. This post is public, so feel free to share it.